Article
Choosing the Right Cable for Your Application
Cable Construction

Wagner offers cable in five different diameters for our cable railing system: 1/8″, 3/16″, 1/4″, 5/16″ and 3/8″.
For cable railings, you want to use a cable that is as rigid as possible and does not stretch. For most applications, we recommend 1×19 construction, type 316 stainless steel strand (cable). Other constructions can be used, such as 7×7 or 7×19, but they are rarely recommended because they are less rigid than 1×19 and have elevated levels of stretch. The breaking strengths for 1×19 constructions are also higher than 7×7 and 7×19 (see Cable Minimum Breaking Strengths chart below).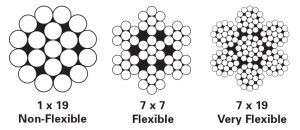 Coated Cable
Any of our standard sizes of cable can be specially ordered with a PVC coating to any standard color. Using coated cable may require special hardware and hole specifications for frame components that differ from those shown in our design guides, boring diagrams, and other publications. PVC coatings have UV inhibitors, but they will deteriorate over time if exposed to sunlight. They also tend to attract dust and dirt which may present a cleaning problem.
The 1×19 construction stainless steel strand (cable) is smooth to the touch and does not fray as easily as some other constructions, so there is no need to coat it for the purpose of creating a smooth, protective surface on the cable.
Cable Applications
| Cable Diameter | Typical Applications |
| --- | --- |
| 1/8″* | May be used on horizontal railings where there is little or no pedestrian traffic or where railing does not need to meet code requirements—such as where there is little or no drop-off. May be used in vertical cable installations as they're not as susceptible to heavy shock loads. |
| 3/16″ | Most commonly used diameter for pedestrian railings. |
| 1/4″, 5/16″, 3/8″ | Diameters larger than 3/16″ may be used where a larger diameter is desirable from a visual/aesthetics standpoint. |
*1/8″ cable can be vulnerable to failure under shock loads caused by abuse, such as a heavy person applying an out of plane load on a properly tensioned cable. 3/16″ and larger cable diameters have significantly higher load ratings than 1/8″ and are not as susceptible to failure.
Cable Minimum Breaking Strengths

Cable Diameter
Minimum Breaking Strength (Lb) For Following Cable Constructions
in Type 316 Stainless Steel
1×19
7×7
7×19
1/8″
1,780
1,360
1,300
3/16″
4,000
3,300
2,900
1/4″
6,900
5,500
4,900
5/16″
10,600
7,600
7,600
3/8″
14,800
11,700
11,000
Note: Wagner cable hardware is designed for use in pedestrian guard. For other applications, consult Wagner for suitability. To learn more about our cable railing options, click here.