Article
Guard Definition and Requirements
The following references are based on the guard definition as set out by the International Code Council (ICC) for the International Building Code (IBC) and International Residential Code (IRC).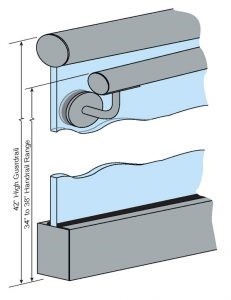 Handrail vs Guards
Guards are in place to prevent accidental falls. They are generally not required unless there is a 30″ drop, which may vary by local Authority Having Jurisdiction (AHJ).
In residential applications, the guard height minimum is 36″. On a stair, the handrail and the top of the guard can be one and the same since handrail must be between 34" and 38".
In commercial applications, the IBC requires a minimum height of 42″. On stairs, once there is a 30″ drop, both a handrail and a guard will be required with the guard at a minimum height of 42″ and the handrail placed between 34″ and 38″ above the nosing.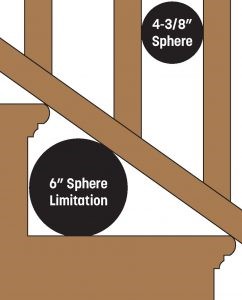 4" sphere rule—no opening large enough to pass a 4″ sphere is permitted.
Exceptions: 4-3/8″ opening on stairs and 6″ opening in the triangular area between a bottom rail and tread.
The IBC and IRC also note that a guard must be able to support a uniform load of 50 lbs/ft or a concentrated load of 200 lb at the top of the guard.
The "Ladder Effect" wording does not exist in the present version of the I-Codes. It was part of the 2000 IRC but removed in 2001. It has never been part of the IBC. However, variations of the Ladder Effect are part of some local codes. Confirm applicability with your local AHJ.
For Occupational Safety and Health Administration (OSHA) applications, a guardrail is noted as being a minimum of 42″ (plus or minus 3″). OSHA opening limitations are 19″.
Wagner does offer a CES program for architects on building codes. Visit this page to learn more.