News
There's a Doctor in the House - Bob Wagner Receives Honorary Doctorate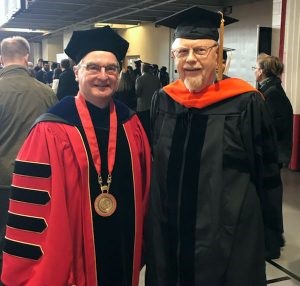 Bob's alma mater, the Milwaukee School of Engineering (MSOE), presented him with an Honorary Doctorate of Engineering degree today during their Winter Commencement.
Bob Wagner is now "Dr. Bob".
After graduating with a degree in mechanical engineering from the Milwaukee School of Engineering in 1964, Bob Wagner worked as one of only two mechanical engineers at Louis Allis Company—which was an electric motor manufacturer.
After a few years, Bob's father asked him to join his company, R&B Wagner. After decades of growth and acquisitions, R&B Wagner became The Wagner Companies and is now employee-owned.
While Bob has stepped down as president of the company, he continues to serve as chairman and CEO.
Bob has remained connected to MSOE for years. He has been a member of the MSOE Board of Regents since 2002. He is also passionate about volunteering and helping the community through his church, Kiwanis, Salvation Army, Wisconsin Academy of Science, Arts and Letters, Wisconsin Arts Board and more.